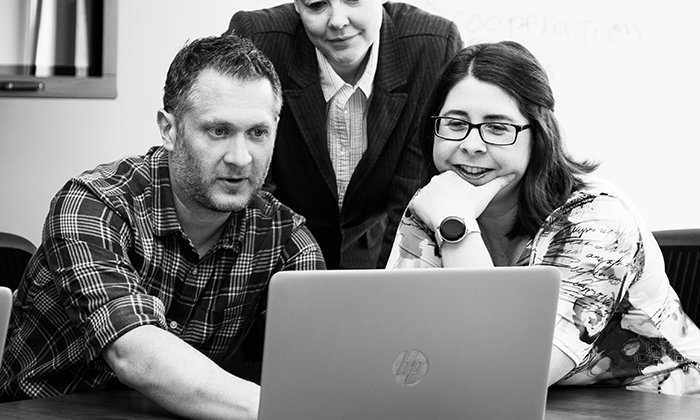 Challenge:
In order to enhance client experience, improve efficiencies, and decrease time to provision services, Advanced Solutions needed to develop a client facing portal that could offer clients the ability to self-serve through a published service catalogue and an enhanced knowledge base.
Growth across other foundational business processes as well means it is also critical to have the ability to expand and evolve across multiple capabilities which was proving not possible in existing Service Management environments.
Solution:
Implement a leading edge, scalable enterprise solution that could replace, modernize and expand the current environment and functionality. Leveraging DXC's strategic partnerships, Advanced Solutions deployed ServiceNow enterprise wide, including client facing portals.
Internally branded 'theHUB', the vision behind this implementation is centered around the following fundamental requirements:
Integration: The ability to integrate between client systems and our system to offer the ability to securely share real-time data
Automation: The ability to allow clients to self-serve on common requests, automate fulfillment processes, and expedite the delivery of services
Consolidation: Single system of reference. Our implementation was primarily focused on IT Service Management to begin initially, however having a powerful platform gives Advanced Solutions the ability to scale and support many other foundational business processes.
Results:
Many business processes and experiences have been amalgamated onto one platform resulting in increased efficiencies and simplified support models.
The Service Portal modernizes the client interface and enhances the ability for users to get IT simply and consistently.
With the portal in place, many requests can now be routed directly to fulfillment teams, by-passing the requirement for everything to be Service Desk triaged.
Transformation of the digital environment has led to integration opportunities between other systems and interfaces (Service Gateway, secure data sharing with client environments)
There is now increased transparency for clients in ticket lifecycle. Portal interfaces allow for bi-directional communication, which in turn decreases the reliance on emails to drive IT operational processes.
Having the ability to efficiently understand the analytics behind processes to deliver insights and optimization suggestions to the business is critical to Advanced Solutions for new Service Development and exceptional client experience.